Back then we were all preoccupied with visions of the apocalypse; Santa Francesca, the foundress of this very grove, gouged out her eyes while dictating premonitions of fire.  What a shame, I often think, that she foresaw only the end times, never hot dogs. (p. 4)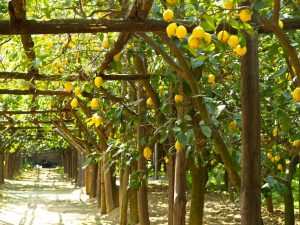 Clyde's story is full of nostalgia and remembrance.  He lives his life unable to shake his past, taking us through his life from beginning to end.  To me, it feels as if I am sitting in the Alberti's lemon grove with him, listening to his stories.  Through a series of narrated flashbacks, we learn Clyde's life story and how he has both struggled with being a vampire and with his relationship with Magreb.
The fascinating thing is that being a vampire is not something surprising or ridiculous in this story. It is just a piece of the reality that Russell has created.  It's even the backdrop for the conflict of Clyde and Magreb's relationship.  In some ways it contributes to it.  There is the endless stretch of immortality preserving their relationship, Clyde's sporadic resentment of Magreb and how she has changed him, but ultimately they encounter difficulties any mortal couple would: Magreb's restlessness and Clyde's unwillingness to move, as well as Clyde's struggles with the person (vampire?) that he used to be, contrasted with the one Magreb made him to be.
"Vampires in the Lemon Grove" never fails to remind us that Clyde is a vampire, that he is immortal, but at the end, as he hurtles towards the sea, much like the bats that he himself cannot fly with, I wonder if his immorality is really that firmly cemented.