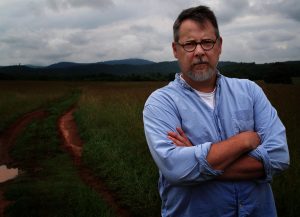 Born and raised in New Orleans, John Gregory Brown is the author of the novels Decorations in a Ruined Cemetery; The Wrecked, Blessed Body of Shelton Lafleur; Audubon's Watch; and A Thousand Miles From Nowhere.
His honors include a Lyndhurst Prize, the Lillian Smith Award, the John Steinbeck Award, and the Louisiana Endowment for the Humanities Book of the Year Award. He is the Julia Jackson Nichols Professor of English at Sweet Briar College and lives in Virginia. He and his wife, the novelist Carrie Brown, have three children.
Reviews: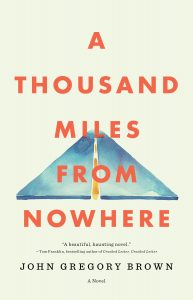 A Thousand Miles from Nowhere
"…a deeply humane look at the vulnerability of black lives, the changing contours of the New South and the restorative potential of literature in the aftermath of catastrophe." — New York Times Book Review
"…a tale of redemption that is both believably prosaic and incredibly, quietly moving." — Boston Globe
"A Thousand Miles from Nowhere is a rich, complex story, full of quirky characters, incidents, and unexpected events—all of them eventually pointing in the direction of homecoming, the power of literature, the possibility of redemption. Brown pulls on classic literature of the past, especially archetypal patterns of the hero's return, creating a work of great maturity." — Counter Punch
"A brief plot summary doesn't begin to describe the textured delights of this novel… A Thousand Miles from Nowhere is a beautiful novel about loss and redemption. Salvation does not come in the form of a psychotic killer or a Bible salesman who steals legs, but Flannery O'Connor would recognize a kindred spirit in these characters. And approve. — Chapter 16
"Masterfully crafted with descriptive prose buoyed by likable, vividly drawn supporting characters, this novel is firmly rooted in the transportive storytelling traditions of the best Southern literature." — Library Journal
"Brown is an expert storyteller, and his latest only further reinforces that claim." — Publishers Weekly
Audubon's Watch
"Brown's ambition and achievement in Audubon's Watch lie in the sensual effects of his ornate, overripe language. Again and again, he pushes his style to the limit, with more than a nod to the stagy conventions of the day. It's a brazen performance that few authors would have the skill or the courage to risk."
—  New York Times Book Review
"John Gregory Brown, much-praised author of The Wrecked, Blessed Body of Shelton Lafleur and Decorations in a Ruined Cemetery, gives us Audubon's Watch, a compressed, highly charged novel that peels away the familiar legend portion of the biography to explore the private mysteries of memory, remorse and the redemption of pain…
"Brown works against prevailing literary fashions; he is neither ironic nor oblique. He has a way of writing scenes emblematically, allowing encounters to carry a certain symbolic weight and making free with dramatic coincidence. At one point during their vigil, for instance, Audubon gives Gautreaux a pocket watch he'd bought years ago (hence the title) and which had long since stopped. He gives it as a symbol, but as soon as Gautreaux takes possession, the timepiece starts to work again. Sometimes–and why this should be is not always clear–the obvious can exert subtle effects.
"Though elegantly and poetically written, the novel is quick with primal energies and powerfully troubling themes. We catch the heat of Audubon's sexual passion for Myra, and we probe the ancient questions about betrayal, forgiveness and, centrally, the enigma of time and memory. As Gautreaux thinks, en route to his rendezvous: 'It is by means of memory, I believed, that man is most human but as well possessed of an intimation of divinity, of that timeless state where past and present and future become joined, indistinguishable one from the other.' Brown's novel, memory-driven, would keep us suspended in that state for the duration of our reading."
—  Los Angeles Times
"Pain brings with it truth, and true appreciation for living. There are few light moments in these pages, but its meaningfulness provides striking images and quiet lessons. John Gregory Brown unfurls the subtle details of two lives with great delicacy and skill."
—  New Orleans Times-Picayune
"John Gregory Brown's third novel focuses on the life of the great ornithologist and artist John James Audubon. But to label it fictional biography or historical fiction is to misrepresent the claim it makes on the reader. Call it, rather, a meditation, a book that stands at the intersection of poetry, fiction, and philosophy, or, better yet, a concerto in words, a work that explores and develops a series of variations on themes and motifs that ultimately merge, albeit uncomfortably, in order to return us to the dominant key, which has to do with art and passion and knowledge and how they can guide us 'beyond this world to another realm'…
"Brown's real project involves more than the construction of a Gothic mystery. He is intent on nothing less than excavating the psyche of a man whose passion for birds involved death (Audubon's studies required the killing of his subjects), art, desire, and unfathomable mysteries that seem to lie at the very core of his being. And of Gautreaux, as well, a man whose obsession with human anatomy matches Audubon's passion for birds, who shrugs off the ancient taboo against violating the dead and turns graverobber in order to satisfy his compulsive need to 'peer inside a human body, observe its organs, its skeleton, its bright channels of blood.'
"The two voices bob and weave around one another in a counterpoint heightened by the resonance and studied artifice of Brown's prose. The novel's language, lush and ornate, mirrors the emotional intensity of the Romantic Age during which Audubon lived and worked. It flirts with the rhetorical conventions of Victorian melodrama, which the murder plot suggests. And it manages to salvage some sense of the mystery that has been bled from life by scientists (including the heirs of Audubon) forever at war with the ambiguous and the inscrutable.
"John Gregory Brown, a faculty member at Sweet Briar and the author previously of Decorations in a Ruined Cemetery and The Wrecked, Blessed Body of Shelton LaFleur, aims high and once again hits the mark. Audubon's Watch will not please those who like their novels to end with all the pieces of the puzzle firmly in place. But readers who appreciate irony and the play of language and ideas will see this as the rare tin of caviar in a K-Mart publishing world."
—  Richmond Times-Dispatch
"It is a rare sensation to encounter an American novel so concerned with the beauty of language and focused on the moral topography of love; these concerns give Audubon's Watch its fundamental strength."
— Chicago Tribune
"[John Gregory Brown is] an engaging, highly readable, and compassionate storyteller. Now he proves himself a masterly architect of plot, narrative, and theme in Audubon's Watch… Breathtaking, compelling, and infinitely rewarding."
— Arkansas Democrat-Gazette
The Wrecked, Blessed Body of Shelton Lafleur
"The Wrecked, Blessed Body of Shelton Lafleur is a staggering achievement, John Gregory Brown's complex portrait of a man painted in prose of stark beauty…Brown is an astonishing writer; disturbing, odd, but mindful always of the importance of narrative, his ample skills evident in this curious, heartbreaking — and deceptively simple — story of a man broken and bent but not beaten."
—  The (London) Times
"The organizing constructs behind John Gregory Brown's dazzling second novel, The Wrecked, Blessed Body of Shelton Lafleur, are paintings — or rather, a series of paintings that Lafleur executes as a talented and ultimately successful adult artist…It's impossible to come away from this novel with anything but admiration for the author — especially his imaginative command of language and narrative voice."
—  Chicago Tribune
"In John Gregory Brown's beautiful second novel (after Decorations in a Ruined Cemetery) is a warm assent to the power of acceptance and healing. The Wrecked, Blessed Body of Shelton Lafleur not only endorses the healing faculty of art, but the capacity of ordinary people to transform their lives into joyous celebrations."
—  San Francisco Chronicle
"If William Faulkner and Flannery O'Connor were around to read The Wrecked, Blessed Body of Shelton Lafleur, they would say that Brown has honored their legacy once again…The beauty of Brown's writing never interferes with the truth he is trying to achieve. It only amplifies it…This novel is John Gregory Brown's gift of grace to us."
—  Los Angeles Times
"The mystery…isn't revealed until the final page, and it is wonderful reading along the way. Even if the plot had nothing to offer, Brown's melodic, haunting and rhythmic prose would be worth the read."
—  Houston Chronicle
"The narrative adopts the dreamlike coloration of folk art to evoke the pictures that Shelton, now a mournful old man, offers to us as the chapters of his life. With a lyricism reminiscent of Porgy and Bess, the novel animates an exotic time and place, filling it with vividly imagined characters whose dignity in the face of suffering touches the heart."
—  Boston Globe
"If you're drawn to the timeless themes of Southern literature — race, family, loss and redemption — and to powerfully understated prose, The Wrecked, Blessed Body of Shelton Lafleur will move you deeply…Brown's writing is sensitive and full of compassion."
—  Charlotte Observer
"The Wrecked, Blessed Body of Shelton Lafleur is about human passions, human relationships, the recovery of lost kin and the struggle to create beauty, and as such it is a tale with universal appeal. As a suspense story, the narrative builds to a gripping intensity. And it is all told in an elegant, luminous prose that sweeps the reader along. John Gregory Brown is a strong new voice in American (not just Southern) fiction, and his work deserves the widest possible audience."
—  Dallas Morning News
Decorations in a Ruined Cemetery
"John Gregory Brown's compassionate vision of human destiny is one that contains both suffering and the possibility of deliverance…For a book like Decorations in a Ruined Cemetery, the label 'first novel' seems grudging and dismissive. Artistry like this is unclassifiable."
—  New York Times Book Review
"I wish more people today would attempt books like this one, novels that take on the big questions, the eternal verities, and, without pretense and a whole lot of claptrap, address the difficulty of finding meaning and significance in life. For this is the stuff of which classics are made and what literature, certainly, is all about. That John Gregory Brown had the nerve to square off before such issues in his first novel is by itself laudable. The fact that he wrote a fine story with believable, memorable characters in the process is reason for applause…
"The story is a moving one, and sorrowful because so ordinary and so familiar…The refreshing thing about the book, in addition to the timelessness of the situation the characters find themselves in, is that implicit in their struggle is the assumption that all the effort is worth it, that there are such absolutes as right and wrong, and that locating oneself in this common grid of guilt and forgiveness is incumbent, part and parcel, of finding out who you are. In a word, redemption."
—  Los Angeles Times
"What Brown's novel renders so elegantly is the entrenchment of abandonment and sorrow, of deceit and mendacity, from one generation to the next…Much of the magnificence of Decorations in a Ruined Cemetery is the result of the author's decision to create imaginative voices other than his own. Of the three narrators of his story, two are female and the third is an African-American man. To use those voices must have been a challenge for the writer, but the decision was a triumph for his novel. John Gregory Brown is both the beneficiary of and a worthy successor to our finest Southern writers."
–  Chicago Tribune
"In its Southern-ness, Brown's novel has an antique quality worth admiring and conserving. His Southerners take care in speaking to each other. The conversations between black Southerners and whites are sometimes of necessity wary and vigilant, but the characters are listening to each other. Brown's stretches of careful and melodious writing make his first novel something much better than the proverbial promising debut."
— Washington Post
"Decorations in a Ruined Cemetery is a sensitive, graceful piece of writing with an emotional candor about it that speaks well for John Gregory Brown's future life as a writer."
—  Boston Globe
"Reading it is to rush willingly and excitedly across a minefield, waiting for blasts of revelation…Brown is a dancing funambulist of a writer who shifts back and forth between events."
—  New Statesman and Society
"An intricate, musical elaboration and exploration…The opening sentence [is] a small masterpiece in itself."
—  San Francisco Chronicle
"Moving, wise, and wonderful…"
— The (London) Times